Description
PROTEIN4.8g
FAT0.0g
CARBS2.4g
CALORIES28.8 per serve
BCAAS

We've included a comprehensive blend of the 3 juggernaut BCAA's along with all of the EAA's and some great non-essential aminos to assist sports performance goals. As advocates for gut friendly we've also included glutamine which works in unison with tryptophan, methionine and the 3 BCAA's.

VITAMIN BLEND

We've included the dream team of B vitamins that act as powerful antioxidants. Which may aid with energy production from food, assist cell growth, and help maintain optimal neurological function. The added dose of vitamin C works to promote a healthy immune system and keep you fighting fit which is key for an active lifestyle.

L-CITRULINE AND AAKG

Packed with watermelon derived l-citruline and AAKG (arginine alpha-ketoglutarate) which may be beneficial for both aerobic and anaerobic exercise. They are involved in the production of nitric oxide in the body.
ingredients: BCAA blend (l-leucine, l-isoleucine, l-valine), EA A blend (l-leucine, l-isoleucine, l-valine, l-lysine, l-threonine, l-phenylalanine, l-tryptophan, l-methionine, l-histidine), natural flavours, vitamin-mineral and hydration blend (coconut water powder, vitamin c, vitamin B1, vitamin B2, vitamin B3, vitamin B5, disodium phosphate, magnesium sulphate), l-glutamine, l-taurine, citric acid, stevia (steviol glycosides), natural colour (gardenia yellow extract)
allergen warning: this is manufactured in a facility that also handles products containing peanuts, tree nuts, & soy traces may be present.
Serving Size – 10g
Servings Per Bag -30
| AMINO'S | PER SERVE | PER 100G |
| --- | --- | --- |
| Energy | 120kj | 1200kj |
| Cals | 28.8 cal | 288.0 cal |
| Protein | 4.8g | 48.0g |
| Fat, Total | 0.0g | 0.0g |
| – Saturated | 0.0g | 0.0g |
| Carbohydrates | 2.4g | 24g |
| – Sugars | 0.6g | 6.0g |
| Sodium | 50mg | 500mg |
| Potassium | 200mg | 2000mg |
| Magnesium | 200mg | 2000mg |
| L-Leucine | 1600mg | 16000mg |
| L-Glutamine | 1000mg | 10000mg |
| L-Isoleucine | 750mg | 7500mg |
| L-Valine | 750mg | 7500mg |
| L-Lysine | 325mg | 3250mg |
| L-Threonine | 75mg | 750mg |
| L-Methionine | 75mg | 750mg |
| L-Taurine | 75mg | 750mg |
| L-Phenylalanine | 50mg | 500mg |
| L-Tryptophan | 50mg | 500mg |
| L-Histidine | 50mg | 500mg |
| Vitamin B1 | 1mg | 10mg |
| Vitamin B2 | 2mg | 20mg |
| Vitamin B3 | 10mg | 100mg |
| Vitamin B5 | 5mg | 50mg |
*(average values by dry weight basis)
**(nutritional values may be subject to seasonal & manufacturing variations)
Shelf Life: 12 months+ keep cool and out of sunlight.
ABOUT US
Macro Mike is more than just the food. Launched by Mike in 2016. MM is a unique health food company fuelled by enormous passion for all things natural and TASTY. Following on from a huge organic response Mike received when sharing his recipes to the online community. Mike saw a huge gap to bring his own products to market.
Founder Mike Kellett being both gluten and dairy intolerant. Definitely knows it can be challenging to find delicious tasting allergy-friendly and plant-based foods. So, he took the best quality natural whole foods from every corner of the world and relentlessly experimented with one simple goal;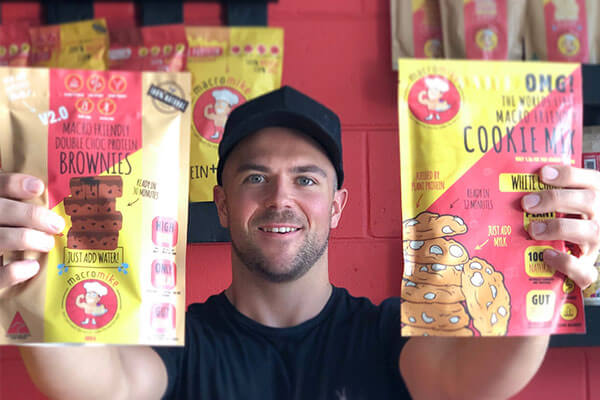 THE MARKET GAP
The market was saturated with brands replicating each other and fighting for shelf space in-store or cart space online selling almost identical products. It was considered crazy to even attempt something in the health and fitness industry these days, but Mike trusted his vision, found his tribe and had faith that the product would speak for itself.
Plant based products, which are often blended and packed by the same manufacturers, had almost identical ingredients, texture and taste.
Health Foods Can Taste Delicious
Mike saw the common denominator of customer feedback in plant-based/vegan protein was a chalky, sandy, unappealing texture with bland un-inspiring flavours. He searched and searched for a protein that was smooth, creamy, delicious and on par with dairy based proteins, however it didn't exist. It seemed that every time someone spoke about 'The best vegan protein' it was always paired with "It tastes good… for a vegan protein."
Mike wanted to change this and refused to spend ridiculous amounts of money on overpriced bags of terrible tasting product. He decided he was going to make the best tasting vegan protein in the damn UNIVERSE.
A Huge Range Of Products & Tastes
Now, Macro Mike has a massive range of Baking Mixes, Powdered Peanut Butter flavours, Protein Powder flavours, Performance Range, Protein Bars, and Ready To Eat Snacks. With a scope that's rapidly growing and constantly evolving (i.e. limited-edition holiday flavours!). We're setting the gold standard in gluten-free, dairy-free, and vegan protein, snacks and supplements.
We use 100% natural, GMO-free ingredients, with no refined sugars, artificial colours or flavours. We're pioneering a new level of food groups that are 'Macro Friendly' (meaning nutritionally balanced).
People from all walks of life enjoy our goodies, from parents feeding their kids healthy sugar-free treats, to bodybuilders bulking up for big lifts, to vegans sick of eating sandy protein and flavourless baking.
Macro Mike is helping the vegan industry overcome the stigma of bland tasting products, all while taking on the supplements industry traditionally full of nasty chemicals.
In the first 3 years of Macro Mike, Mike took his small brownie business from the spare room of his tiny apartment to where we are today. We're in the heart of the Gold Coast with a state-of-the-art production facility and on site storage and shipping warehouse.
Macro Mike is now in over 1000 of the biggest health food and supplement stores across Australia.
It has been absolutely unreal hearing all the people's lives we've touched and helped to better. People have finally been able to enjoy delicious whole foods after years of dealing with allergies and intolerances. That otherwise wouldn't let them and just helped people find a new love for baking. – Because it's so easy!
Mike's story is one beaming with resilience and the power of self-belief. His set-backs, trials and tribulations provide gems of wisdom for any aspiring entrepreneur. With business and entrepreneur awards stacking up, the growth of the business is undeniable.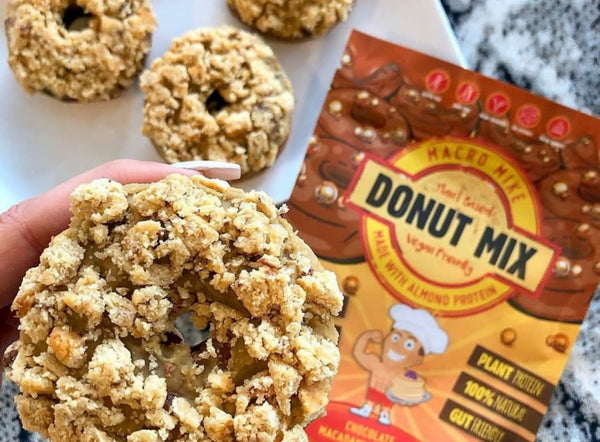 OUR GROWING FAMILY
Macro Mike has built a genuine online following and the tribe has expanded to thousands of loyal customers. Our Instagram handle is @macr0mike where we invite you to join the community we've created and enjoy the amazing free content and recipes we share daily.
You can also find us giving out free samples at some of Australia's biggest health and fitness trade shows nationwide. Events like the Arnold Schwarzenegger Fitness Show in Melbourne with over 70,000 visitors each year.
"We've held our own against some of the biggest names in the industry and received exponential growth from our presence and success at some of the biggest and most prestigious health and fitness events in the world. leaving many in the industry scratching their heads wondering how we do it".

Mike continues to innovate towards expanding the Macro Mike range and some exciting new projects set to launch in 2023.
Introducing Macro Mike Electrolyte Powder.
A Strawberry Lychee Pre Workout & Post Workout Health Drink: The Perfect Blend of Amino Acids and Electrolytes Powder Australia
Stay Alert & Revitalised Daily
In today's fast-paced world, maintaining a healthy lifestyle can be challenging. We all strive to achieve optimal hydration and nutrition, but sometimes our busy schedules make it difficult to prioritise our well-being. However, there's good news on the horizon. Macro Mike has revolutionised hydration and nutrition and the way we fuel our bodies. Providing a convenient and effective solution for your hydration and nutritional needs.
Unique Pre Workout Formula
Macro Mike Electrolyte Powder Pre Workout Health Drink is a unique sugar free high-quality blend of amino acids and mineral electrolytes powder. Designed with busy individuals in mind, this innovative supplement provides a comprehensive and easily digestible source of essential nutrients and Electrolyte minerals that support your body's every day function and performance, recovery, and overall well-being. Macro Mike Pre and Post Workout supplement is a perfect alternative to an afternoon soft drink or beer. Sweet and Delicious Taste  – Without the Sugar!
Hydration & Homeostasis
Stay properly hydrated with an optimised homeostatic system fuelled directly by the food and drinks you put in your body. Neither sugar packed soft drinks or a beer provide you with Amino Acids nor electrolytes and especially no protein. Both Electrolytes and Amino Acids are vital for blood pressure regulation, Protein synthesis, neuronal messaging as well as basically every bodily function requires balanced homeostasis and all constituents for homeostatic regulation. Electrolytes and amino acid come from nutritious healthy food and health drinks and may need to be supplemented into your diet if you regularly do strenuous work, or intense gym workouts. Supplementing, electrolytes, and amino acids is necessary to replace the minerals and nutrients lost through perspiration and energy production.
High Quality Plant Derived Amino Acids
One of the key ingredients in Macro Mike is amino acids. Amino acids are the building blocks of proteins and play a crucial role in numerous bodily functions. They are essential for repairing tissues, building and maintaining muscles, supporting immune function, and enhancing cognitive function. However, our bodies cannot produce all the necessary amino acids on their own, making it vital to supplement our diet with these essential nutrients.
Mineral Electrolytes & Amino Acid Pre Workout Powder So You Can Thrive
Macro Mike's Electrolyte Powder and Amino Acids blend is carefully formulated to provide a complete profile of all nine essential amino acids. These amino acids are derived from high-quality plant-based sources, making Macro Mike suitable for vegans and vegetarians. By consuming these vegan Pre workout electrolytes and amino acids powder regularly, you can ensure that your body receives the optimal balance of Amino Acids and Electrolytes needed to thrive.
Amino Acid & Electrolytes Benefits
In addition to the amino acids blend, Macro Mike also incorporates electrolytes into its Pre Workout Powder Formula. Electrolytes are minerals that have an electric charge and are critical for maintaining proper hydration and bodily functions. They help regulate fluid balance, support muscle contractions, and facilitate nerve function. When you engage in physical activities, such as exercise or sports, you may lose electrolytes through sweat. Replenishing these electrolytes is essential for avoiding dehydration and maintaining optimal personal performance with balanced homeostasis regulation.
Pre Workout Amino Acid & Electrolyte Minerals
Macro Mike's electrolytes blend includes key minerals like sodium, potassium, magnesium, and calcium. These minerals work together to restore electrolyte balance and optimize hydration levels. Whether you're an athlete looking to enhance your performance or someone simply looking to stay hydrated during a busy day, Macro Mike's electrolytes powder provides a convenient and effective solution.
Stand Out Flavours & Health Benefits
One of the standout features of Macro Mike's amino acids and electrolytes powder is its versatility. The plant protein, Electrolyte and amino acid Pre workout powder is easily mixable with water or your favourite beverage. Allowing you to enjoy a high quality Health drink at any time and in any setting.
Whether you're at the gym, on the go, or relaxing at home, Macro Mike's powder can be conveniently incorporated into your routine.
Transparent Business Operations
Macro Mike understands the importance of transparency and quality when it comes to hydration and nutrition. That's why they have gone above and beyond to ensure that their Pre Workout, Protein Water and other protein bars or protein hot chocolate are free from artificial flavors, colors, and sweeteners.
High Quality Ingredients Only
They use only the highest quality ingredients, sourcing their amino acids and electrolytes from reputable suppliers. Each batch undergoes rigorous testing to guarantee its purity, potency, and safety.
Commitment To High Quality Health Drinks
Furthermore, Macro Mike is committed to sustainability. Their packaging is made from recyclable materials, minimizing their environmental impact. By choosing Macro Mike, you're not only investing in your own health but also contributing to a healthier planet.
Macro Mike Pre Workout | Amino Acids
In conclusion, Macro Mike's amino acids and electrolytes powder is a game-changer in the world of nutritional supplementation Drinks. It offers a convenient and effective solution for those looking to optimize their nutrition and support their body's performance and recovery. With its complete amino acid profile, plant-based sourcing, and electrolyte blend, Macro Mike is a go-to choice for individuals striving to maintain a healthy lifestyle.
Embrace A Healthy Life
So why compromise on your well-being? Embrace Macro Mike and fuel your body with the nutrients it deserves.